Launch your Career Today with our New Masters in Procurement, Law, & Strategy.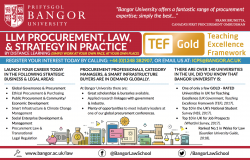 LLM Procurement Law, Strategy, in Practice (by Distance Learning)
LLM PROCUREMENT, LAW, & STRATEGY IN PRACTICE (BY DISTANCE LEARNING)
We are delighted to announce the launch of Bangor University's new Masters (LLM) in Procurement, Law, and Strategy in Practice, an accredited distance learning program that will enable candidates to develop their legal, procurement, and operational management expertise, whilst propelling their careers.
The LLM in Procurement, Law, and Strategy in Practice has been designed for candidates who cannot physically move to the UK/Bangor to engage in Postgraduate study. Furthermore, the course will provide a springboard for accelerated career progression in Public Procurement, or into private bodies, all of whom have procurement functions, which need to be serviced.
Candidates who are already working in industry will develop their expertise in order to advance their career prospects, and upgrade their level of skills. The fact that many individuals "fall into" procurement roles from other disciplines, means there is likely to be considerable demand from those who do not hold a qualification in procurement but are particularly motivated to up-skill in this area, so that they can master procurement practice challenges and issues such as, how to:
Manage and evaluate risk;
Accommodate human rights and climate change issues in procurement;
Effectively accommodate sustainability requirements in procurement;
Craft and design sound contracts for use in procurement awards;
Effectively modernize outdated procurement processes;
How to effectively go about the process of buying, or supplying, innovative goods and services;
Understand the differences between being a procurement manager and a procurement leader.
Why Bangor University? Well, at Bangor University there are:
Great scholarships & bursaries available.
Applied research linkages with government & industry.

Plenty of opportunities to meet industry leaders at one of our global procurement conferences.
There are over 140 universities in the UK, and did you know that Bangor University is:
One of only a few GOLD - RATED Universities in the UK

for Teaching Excellence (UK Government, Teaching Excellence Framework (TEF), 2017).

Top 10 in the UK's National Student Survey (NSS, 2017).
Top 10 in the UK

for Job Prospects (WhatUni Survey, 2017).

Ranked No.1 in Wales for Law (Guardian University Guide, 2018).
Register your interest today by calling: +44 (0)1248 382907, or email us at: icps@bangor.ac.uk
Related documents:
Publication date: 27 September 2017